Everyone search Google to get information about product services and more. The local SEO is essential for a local business or small business. 45% of Google searches are local. Nine out of ten customers utilize search to get local information, which indicates if your company has not developed for local search if you lost on 80% customers. Local SEO helps to build your business, and we've to develop an Ultimate guide, which includes SEO tools, SEO Strategy and SEO Resources, and more.
Local SEO helps to improve online visibility for your business and to attract many consumers. It was developing quality and quantity traffic for your business with the help of an organic search engine. The searches use many search engines like Google, Bing, etc.
Google and other search engines are giving more consideration to the local searches. If you are searching for some products on google.com Google provides the results that are related to a particular location, and it's based on their IP address. If you're indicating a specific state or city, Google will be limited under their search and see a particular area.
Is Local SEO necessary for your business?
Yeah,
People lead to search online to get better choices
Local SEO produces a high conversion rate
Local SEO helps to build your brand
The Google map pack has occupied 30 percent on the first page for organic search results. This map pack generally presents Google's SERP feature, like Instant Answers block and Snippet features. The Google map pack sometimes called Google local box, this Google Local Pack has the most traffic-driven results for all kinds of local businesses.
The SERP features a built-in map, and it shows the area relevant to your query and 3points business list of NAP data like name, phone, address, etc. For example, if you search for "USA Barber ," Google shows the map at the top of the first page.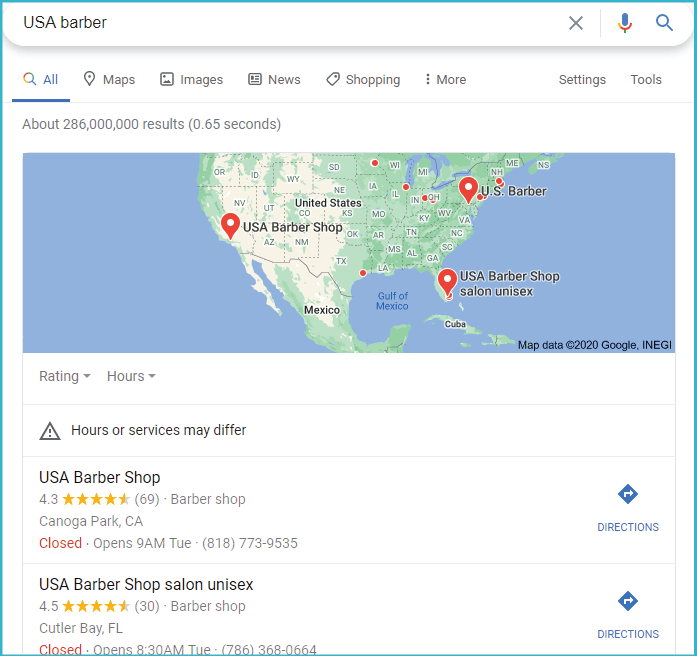 Google has decreased the no. of businesses showed in the list and attached a plan at the top. Map pack increased the clarity of the Local Pack on mobile phones since the consumer can determine the nearness of local companies on the same screen. Google map pack has a set of own rules and algorithms, the list of businesses has NAP data, call buttons, reviews rate, and office hours. If you can click the name or place in Google, it shows the list of related things and information on each product.
Google Local Pack Checklist
It has two main pages; they are optimizing local SEO for your website and Google My Business page.
1. Create Google My Business page
Verify to recognize whether your business has previously been attached to the GMB listing. Type the company name in the business name field, if your company name has a matching business, declare that name is yours. You don't want anomaly out if you notice the GMB on your company page, this page was created in parsed data, and you can declare and confirm the ownership. If the pages are not found, then register your company name.
2. Check your company address
You can register your company name before you fill the GMB application, and it may take 3-5days to get the physical address confirmation code in the post, enter the confirmation code in the Google my business account within the particular field. You can register your Google my business account using Google search console and Google analytics Gmail account. As soon as the Google account gets connected, you can identify the business location and check automatically.
3. Improve the business lists
Once you register your business and finish checking, you can fill the information of your business; this information can determine the clarity of your business in search so that you can follow the Google instruction.
Pictures: Pictures are an essential part of choosing a local business, so you don't ignore it.
Reviews: The contact information and Google map pack or local pack show the reports, which determining the factor of customers. Many customers read online reviews before purchasing the product on the website. Last year's analysis, 97 percent of customers have online view reviews for businesses; it provides the online fame for your business, essential to observe discussions and react to reports.
Category: It describes how Google displays your business to search the query. It's crucial for local ranking. So you can choose the category accurately and feasible.
Keyword searches in local SEO
You first want to understand which search is supporting people to see your business. Once you know your keyword, you can easily rank your business, so you must mainly focus on related keywords. For example, if your coffee shop is ranking high for coffee shop America, you go to serve on other search phrases.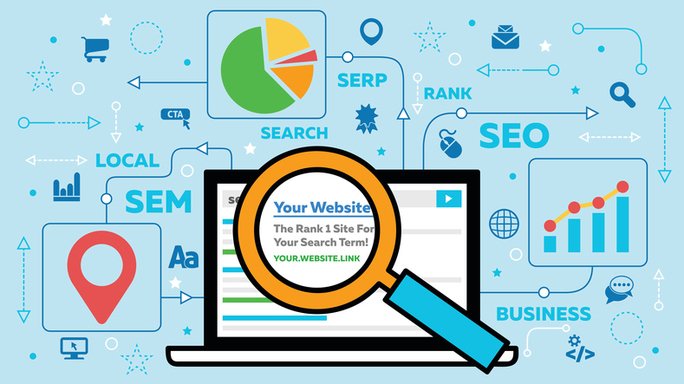 You can turn your consideration to rank for searches like America coffee or the best coffee in America. If you are developing your research results for relevant keywords, you can improve the capacity to reach more possible consumers.
You can use semrush, Google keyword planner, and more keyword tools to search the keyword volume for your location, and increase the search to cover nearby distinct areas. Research your opponents' data to identify what are the tactics they are using to rank the local searches, and you can use the relevant competitive keyword for other businesses.
The local searches produce low search volume results; first, you want to understand which questions or queries are supporting customers to see your local business. Google produce more local keywords.seventy-six percent of customer looks "near me" business on their smartphones and visit within a day, twenty-eight percent of customer buy the product at the end of the searches.
How to Choose the Best Local Keywords
Industry Keywords
You want to understand which search is supporting people to see your business, and you can recognize the words people use when explaining your services and products. Attempt to consider what people would type in search engines to get a business like yours. For example in bakery shop keywords like,
⦁ Chocolate
⦁ Birthday cakes
⦁ Nuts
⦁ Ice creams
keyword Modifier
The next level to get the correct local keyword is by using the modifiers that customers used in local searches. It consists of words that utilized to define a variety of products, other suitable words, a quality, and an event. For example
⦁ one day distribution
⦁ best
⦁ Roses
⦁ Marriages
For a flower shop, it means keywords like the best flower shop, birthday flowers, marriage bouquets, etc.
Search Local Keywords
Finally, you need to identify your geographical location keywords for local SEO and analyze the different locations and cities you serve and wherever your consumers are from. If you have transfer services, then you can include the area name, city, country, etc. in the content site and blog post. For example, the target keyword on a coffee shop like,
⦁ Best coffee in California.
⦁Exotic coffee shops in the RDU area.
⦁ Coffee shop near Hillsboro road, California.
Ranking Factors of Local SEO
Ranking factor and Local SEO Google results vary regularly due to daily updates, they are influenced by user reviews, other quality problems, mobile-friendliness and NAP. Thirty-four percent of local business people invest in Local SEO in recent years. Everyone fight to get top place in the organic search.
you have to create exposure with the consumers earnestly trying in your location. Google has recent research in local searches to recognize that near them, and near me, local searches are growing year by year in 130 percent. It serves a sizeable 34X improvement in a single local search query in 2016.
The local SEO has two ranking methods, such as snack pack and organic search. The search engine result page has top of a tiny box called a snack pack. Snack Pack is a small box that looks at the head of the SERPs ( search engine result pages), which contain the reviews, opening time, and contact information for your business. This method is most suitable for motor and brick businesses.
The second method to propose the local SEO is organic page ranking, this local SEO present at the top of the search engine result page, which is frequently managed by measurements and review sites. If you have a great local SEO, it will increase the organic ranking for your business.
The local SEO has five different types of crucial ranking factors
This is a large section of local SEO; and one of the reasons for increasing your business ranking factor. These pages mainly contain the address, hours of operation, and contact information. The first method is to declare your Google my business listing and verify your listing, and you need to claim the partnership of business listing. This list contains all the information on consumer needs. This page indicates Google My Business heading in a few related keywords, and it provides crawlable, functional website links. These all improve your organic ranking and easy to reach more local consumers. For example search on Google "Home appliances in Paris" then Google shows the location maps, phone number, address, and star rating.
Links
The links are most important in local SEO, many relationships are coming to your business page, and the links are reliable. If another site is linked to your business site, it may increase the traffic and signal on your business site. These quality links are a significant influence on your organic ranking, and if your site has many backlinks then Google marks it as reliable and trustworthy. Link-building is an essential method to increase your organic ranking or local ranking.
The links increase your authority, and it improves your reliability and appropriate business. The links increase your authority, and it improves your reliability and appropriate business. When your business has seen power, many customers trust the quality of work and your business.
Inward link authority: Inward Link authority is the most influential ranking factor, which shows Google that different people see your site worthy. The Ahrefs tool is used to verify your backlink profile.
Inward links from local related domains: Google authorizes local applicability to links from nearby origins. For example, an internal link from a city center that is a relevant local link.
Link capacity: The link capacity has high authorized backlinks on your site, which is more useful to improve your ranking. If your site has high-quality content, guest posting, and associate networks it can support to create a massive number of backlinks.
Link diversity: The search engine has created a type of backlinks using the google penguin algorithm. these links are more effective.
On-page content
An on-page content is third important factor in local SEO; you should concentrate on sharing relevant information as required and avoid keyword padding.
Some critical way to increase your local SEO:
Page Title: It contains essential keywords on your page.
Content-Length: Quality is the standard index of content length, so your site should contain complete and essential content that buyers can easily read it.
Content on Local Relevance: To be locally related, content should hint the region neighboring your business — the in-content links to local places or relating to the local areas of choice.
Header Tags: You place the primary keyword in header tags to signal connection to Google search engine and customers. H1 header shows the subject of your web page.
GMB Page: This page must be related to local customers, which contain content and content and title on your GMB page.
NAP Footer: Your web page has a name, address, phone number in the footer page. This information is matched to your GMB profile, and Google read this information so that you can upload the data in Schema.
Meta Description: Meta description helps to provide the customer with critical data of your business. This original information of your page looks under the page heading on Google search engines.
Citation
Citation is a fundamental aspect of local SEO. It consists of address, name, and phone number of your local business, and it improves your ranking on Google. It comes with social media, review sites, and other business platforms. The citation has some factors
Citation Relevance: It is closest to domains in your geological location where you can post your company detail, like temples or blogs; you can get a local SEO.
Citation Consistency: If your data differs from citation and sites; Google might describe this badly and reduces the local ranking from your business. Citation Audit and cleanup will helps to solve this problem.
Citation Authority: Many official sites will give more useful citations. For instance, web indexes such as foursquare, Glassdoor, BBB, and more have the signed authorization, as well as government-affiliated offices and newspapers, etc.
The customers believe in online discussions from other customers' comments. Generally, Google views online reviews for the local search. Great quality reviews increase your company's visibility. The customer reviews will improve your appearance, traffic, and authority to your business. These factors boost up your local ranking.
This is a large section of local SEO; it one of the reasons for increasing your business ranking factor. It is a free tool from Google that supports business partners maintain their online behavior over the search engine and its growing collection of services – gives the most significant influence for names seeking local publication.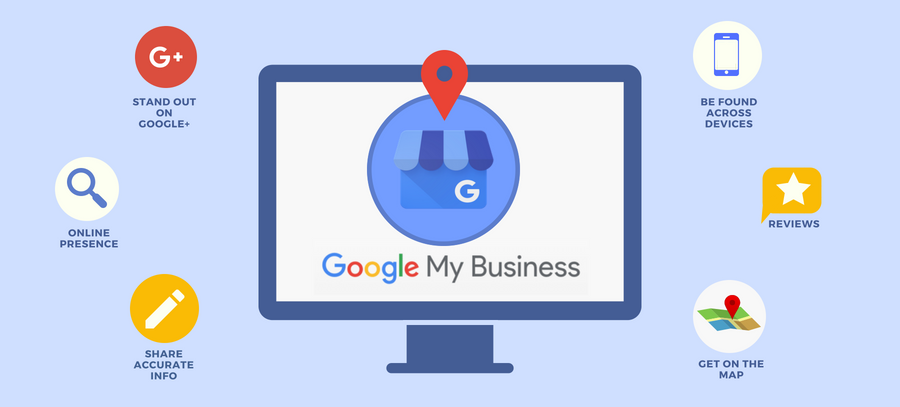 Google My Business mainly contains the address, hours of operation, and contact information, many people conduct the local searches; they are looking for this information. Google maps check Google My Business data to support the companies and relevant articles that are related to particular searches.
You can create a new listing; Google automatically generates the Google maps location that helps to maintain the searchability on traditional Google search. It supports the fair majority of organic searches from Google, and improving the GMB (Google My Business)listing.
⦁ Check Your Business
⦁ Fill Your Profile perfectly
⦁ Check Your Profile Information
⦁ NAP Consistency
⦁ Choose Related Categories
⦁ Semi-Professional Photos
⦁ Find More Reviews
The first step is to check whether your business is on Google. Google gives a four-digit pin in your mail that comes within ten to fourteen days. Collect your four-digit badge, and then go to the given link and register the PIN so that Google will recognize your business.
Fill Your Profile perfectly
After checking your business, the next task is to fill your profile correctly. The profile has many fields, some areas are optional, and some of our customers told that all details are required. You must fill all the details of your business. It is quite simple, but many companies don't fill the information on this page. Your profile page has many additional boxes; where you can input further information about your business that supports future customers. 
Additionally, you can add several photos of our services and products, working hours, the location you travel, etc. If you need to increase the ranking of your business, give related and correct information; add relevant keyword descriptions and images. This data is precious to the customer that can support them and get their own choice. These all improve your organic ranking and make it easy to reach more local consumers.
Check Your Profile Information
Make sure to check that all information is correct in your profile page and accurate. Google My business local ranking is based on their local searches; the local search turns around the relevancy and nearness. Ensure your service location is correct. 
NAP is the most significant part of increasing Google My Business. Name, Address, and Phone number are more equal in every place you have listed; it is like social media profiles, other listings, and your websites. Google will show that you are involved in the local pack by constructing the quality citations with the niche and local business registers with 100% NAP consistency.
The construction of quality citations by niche and local business registers will help to Choose Related Categories.
The category is the most valuable thing in local business, and it can be utilized to Google My Business profile by choosing the correct service category. This aspect used to decide if your business listing shows when anyone does the organic search. This page has 2 types of categories like primary category and secondary category.  You can set one primary group and nine secondary categories; the primary category contains current and related classes.  The customer takes 3-5 positions only by transferring the pertaining type of secondary to the fundamental level.
The images are an essential part in GMB. You can upload your product, and semi-professional model, which quickly attracts people and improves your organic ranking. You can add new content and pictures daily to attract the people and improve your photos accurately. Google utilizes data like captions, text, and titles involved in your pictures to define the area of your company.
Every company has a review procedure; if you get positive reviews local search ranking will be improved. Ninety-one percent of customers hope online reviews on personal references and local companies, 86 percent of people see online reviews. Google has an average reviews star rating and several reviews, this algorithm decides which businesses displayed first. 
Local Business on-site SEO
You need to write 100 percent exclusive content for all pages on your business site. If your business site works in Brookline and Boston, you need the content on every page to be different. The local business involves map, address, directions, hours, and images. All images have title tags and meta descriptions. 
Schema markup for local SEO
You can add NAP information again on your home page, and schema markup is an on-site local SEO tool that can add your business site, it improves your search engine results,  and also it helps to check your on-page site daily. More than 32% of websites use this tool, and some companies also used this local SEO tool in basic form. The search engines are mostly used for machine learning and AI techniques. You can easily understand your business search engine algorithm with the help of a schema markup. 
You can use schema keywords that indicate a product, service, local business, and organization on your site support to improve your content ranking.
It increases the traffic quality on the drive, makes a fruitful result, improving the time spent on a page, and increases the number of visitors. The schema is mostly used for local businesses.
Increase the page load speed
Page load speed is an essential part of a local business; the time to develop your page speed can quickly support you to increase local ranking. First, you check your page load speed. There are many tools available on Google to check page load speed like a lighthouse, page speed insights, and Chrome user experience report, etc. If your business site is slow to load on mobile devices, it will affect your traffic.
NAP citation for local SEO
This is the next method is to build NAP citations for local SEO, which is also used to mention in your online business. The NAP citation has two types of quotes, like structured and unstructured citations. Unstructured citations are specifying your business that doesn't understand a structure. This can be preferred vendor pages, other websites, and blog posts. 
The structured citations indicate your NAP information; it performs in a visually-structured method, which indicates the social profiles and business directories. For example, structured citations are yellow page, facebook, MapQuest, etc. The first step, you want to create your current citations accurately and consistently.  In the second step, you want to create more related citations. 
Why citation is necessary for local ranking?
Citations support search engines, like Bing and Google, to verify your business occur. When various trustworthy sources have accurate data on your business, it indicates to search engines that your website is authorized. It supports to create your business authority, allowing trust, and it will increase your local business ranking.
Link building is the process of making other websites link into yours. Local link performs a significant role in local SEO, and it increases your local ranking. It's mostly used for motor and brick businesses. The citation link building is an essential factor to improve organic ranking like ping and Google. Hundreds of local SEO specialists accepted the local link building.
Local SEO professionals infatuate on
⦁    Fixing NAP data.
⦁    Build the citation list
⦁    Make the hyper content
⦁    construct the local links.
Several local companies fastly rank in google with the help of valuable and useful local keywords; then, they want to add high-quality local links or backlinks to improve our local ranking.  The local links give two criteria, such as providing the chance to talk to the public to your location and reconnect links on your business site. You can get backlinks from Newyork times, Forbes and Huffington Post. These backlinks improve your local ranking, and Google identifies your site is high quality and affiliated.
Citation is specifying your company address, phone number, and name on the website. The citation NAP information is the value search method for local businesses. You can link from local websites and newspaper links that improve your business, and many customers visit your site. The list of other websites backlinks gives valuable industry-specific related signals and area signals to Google. You can get the links from quality websites, which can find the right place on Google. You can get backlinks from your city, other specific industry, and country.
The citation and links are more valuable and simple to get in other business industries. Every business industry has one known membership in the state, city, and country-level, then you can follow the association. These community links give a complete, accurate, relevancy signal that provides your local SEO a proper help. For example, you can search USA lawyers google shows keyword related business websites. Every local business in society works with few capacities of other local companies, but they can differ from only links. The aggregator's organization gets the local information from different experiences, public records, and separate roots. It can give search engine data, supporters, and the advance citation list. 
Scholarship link building
You can give the scholarship to school colleges, etc. and provide the market, which can link to the scholarship page on the school website. This link can improve your business site and local ranking.
Events commonly get more insight for local businesses that host visitors at their job areas. Still, the local company working outside from different offices can make links on hosting the events in other locations, and it helps to NAP citation. The numerous event programs all across local newspaper sites, government sites, and local news sites and hosting the events. These sites have an event page on your business website, many activities you can see yourself making the event models.
Strategies and tips in insight Local SEO
Check the physical address on your location- The fundamental thing to assure you have the regular address of the site you want to develop locally and the particular address of your assumptions is found within, and the closely related area in your target.
Use Google My Business Properly- GMB is most famous for local businesses and Google. You can add any information to the GMB page, which shows on google maps and google search. 
 Check the NAP and GMB information on your business website- your NAP and GMB should have the original name of your local business.
Google Map has your website location- you can add contact information on your business page, which is essential for the original map on your assumptions to be attached to the contact page on your business website.
Assure that several business areas have a distinct page- your company has many branches and many locations, which is necessary to build different pages. It can adequately develop for a particular situation.
Create a distinct page on each service and products- Your business has many services and products, assure that each product has a webpage with essential, and it has specific features. 
Use proper citation-  Citation is a significant directory of local SEO; it supports to build the credibility and authority for your business website and increase your site traffic.
Your business website has unique content- You want to assure that your business pages content is unique. The material is easy to understand, attractive to customers. 
Increase your business website reviews- you can get more customer reviews on your business-related products and it will increase your local ranking.
Use and develop your backlinks- You can improve your local business, you want to accept other companies in your local business community. You can get links from another website to your local site that can be very useful for your business.
 Utilize keywords efficiently-  you can use related keywords on services and products in your google my business name, domain, review, and the website content.
Strategies and tips in insight Local SEO
Every business has a physical location used to develop the local search engines. The local SEO is more important, but it is not easy. It needs to know the several methods and techniques that make google see you and excess time. 
Neglecting local SEO is a significant error, especially if you have a local business. It is effortless for your opponents to go forward to you if your website doesn't develop and the opponents. Luckily, you can get the power back with some modifications to your website and a little hard work.
The NAP information in online and fid high-quality reviews to the link buildings is increasing your local ranking. These techniques support you to move first in the local search result.
You can choose to manage your local search engine development in the local SEO field if you don't ignore it. The links work as essential guides to learning the different features of local SEO.