Do you really need AAWP on your website? I assure you will get the right answer by the end of this AAWP review. Why wait? Let's discuss.
Affiliate marketing with Amazon Associate Program is currently the best way to monetize a website. It may not be easy but all your effort will be worth it when you earn revenue and sales from it.
More than the popularity and brand image, Amazon affiliate's user-friendly features, customer support, accessibility, options to work along with other affiliate programs, compatibility to use plugins, and third-party tools are great advantages.
Amazon associate program in a WordPress website is a familiar and wise choice. This is because of the freedom Amazon gives you to use as many useful WordPress plugins as you want. 
I think I don't have to say, but plugins are the best companion for affiliate marketers.
People say plugins increase page loading but those who just started affiliate marketing or blogging find it helpful to learn the medium. Even experts who have multiple affiliate programs on one website or manage a lot of websites single-handedly can also make use of them.
Like any other affiliate, to take advantage of an Amazon affiliate you need specific tools that will make most of the work automatic such that you can focus on other parts of marketing.
Before getting to know the Best Amazon Affiliate plugin, let's talk about certain conditions that made marketers like us go behind plugins.
If you have a website with foreign visitors and you have to find ways to monetize their purchase through your links which is not possible if you have not signed up for visitors' country-specific websites.

If you have a list of products and want to show the advantages and disadvantages of one another and you need a detailed table that clearly shows what each product has and whatnot. It increases conversion and helps visitors to decide.

If you like to promote Amazon products throughout the website like in posts, pages, widgets, and sidebars, you may be happy if you can convert them to code and paste wherever you want without changing the essence of the website.
These are just a few, the list goes on and on. Affiliate marketing is not ONE TIME THING, isn't it?
Now, thinking of doing all these manually might make you go crazy. Hence the reason why developers created plugins. 
Amazon Affiliate WordPress Plugin (AAWP) is one such affiliate plugin that does everything you wanted like,
Redirect foreign visitors to country-specific websites and help you earn a commission.

Give options to add affiliate links in text and images, create boxes and tables, customize CTAs, and provide conversion-oriented features.

Support shortcodes so you can generate a code for product links and use it on the website.
AAWP is not done yet, it offers more. Interested in knowing what they are?
Give us a chance to tell you.
In this AAWP review, we will discuss What is AAWP and its features, how to get and use it, how much it costs, and who can benefit from it.
Let's see why AAWP is the Best Amazon Affiliate Plugin for WordPress.
AAWP Review - In a frame!
installation and setup
97%
Accuracy and stability
95%
AAWP, so far, is the Best Amazon Affiliate WordPress Plugin for beginners and experts. It helps manage multiple affiliate programs, shows current products from amazon, offers sale-focused features, accurate localization, and many more. This plugin does everything to increase conversion and sales. We definitely recommend giving it a try at least once in your affiliate journey.
To explain what a plugin is, we should know what to be ready with when choosing an Amazon Associate Program. This includes the following:
Choosing products and getting the links.

Adding affiliate links in the most relevant areas of websites.

Creating sales-driving CTA buttons.

Uploading product images.

Adding product ratings and reviews.

Creating conversion-linked yet clear and neat product tables or comparison tables.

Creating product showcases with everything said above.
Neglecting any one of them might trigger an affiliate failure. In one way or another, all these things proved their impression on making visitors click the links and buy the products.
If you are not ready to spend a few bucks on a plugin, you might end up working round the clock to add all these manually. In this case, the chances for mistakes are high plus you spend a lot of time creating first and correcting later.
Why not try an easier way when it is available?
AAWP helps anyone who really worked hard to profit from Amazon affiliate marketing. It saves your time, prevents mistakes, and monetizes your efforts.
The plugin benefits everyone from a blogger as a hobby to an affiliate marketer as a profession. You can see the gradual increase in sales and revenue after installing the plugin.
Later we will see the ways to customize the features and methods used to improve performance to achieve the affiliated goal. Now, let's see their features.
AAWP has a lot of key features and other tools to optimize your website's affiliate performance. Below are the highlights of their outstanding features.
Amazon hypertext links are one of the essential features that an affiliate plugin must include. You can add this HTML text link anywhere on the website. It gives options to add 'nofollow' and 'new window' attributes to the links.
You can use a term or phrase to link the product. In the default setting, the plugin uses the product's name from Amazon for the link. Sometimes the title is too long or misses an important term, that's where you use the AAWP custom text links feature to change the text.
To add text links you need to know the ASIN number of a product that is commonly found below the product description. Just add this ASIN number to the shortcode to link the product.
An Amazon Text Link example
How to create an Amazon Text Link
[amazon link="B071D41YC3" link_icon="amazon" /]
AAWP another sale-focused feature is called Product Boxes.
You can promote a single product with a box by adding an image, title, description, star rating, reviews, price, and CTA button.
Using a neat frame and style, the plugin does better conversion optimization. For prime products, it also adds the prime symbol.
The product box feature also gives customization options for appearance and style. You can change the template, and color, and use attributes for adjustments.
Using the shortcodes available, you can make these product boxes with multiple products in the same columns or rows.
An Amazon Product Box example
How to create an Amazon Product Boxes
Shortcode for Product Boxes
[amazon box="B07K23MWKV "]
3. Product Comparison Tables
If you have a list of products that have different features and functions, comparing one with another might help buyers to know which is right for them. Not now, but from the beginning, product comparison tables have always been the best way to make conversions.
AAWP offers a Product Comparison Table feature where you can add Badges, Thumbnail product images, titles, descriptions, text links, buttons, prime details, star ratings, and so on. Remember, you get to customize all of these options to your desire like different colors, styles, sizes, and templates.
You give a quick glance at what the post or page is having with this table.
If you have a niche website and add review posts of different products, product tables are highly helpful in encouraging visitors to click on the links.
An Amazon Comparison Table example
How to create an Amazon Comparison Table
Shortcode for Comparison Table
*25 is the ID, a unique number given for each table.
4. Amazon Affiliate Link Localization (Geotargeting)
AAWP is one of the Best Amazon Affiliate Globalizer Plugins for WordPress.
Affiliate link localization is essential when running a website with international traffic. Many affiliate marketers started understanding the need for geotargeting their affiliate links to offer the most dedicated product links to the visitors despite their location.
No doubt, geotargeting took affiliate marketing one step ahead, actually not one but many.
Geotargeting is a marketing method that comes along with the terms like link globalization or link localization. 
It tracks the visitors' IP location and redirects them to the most near Amazon locale like Amazon.in for Indian visitors, Amazon.ca for Canadian visitors, from a global site (Amazon.com/Amzn.com). 
So, now if you have an affiliate account on the other 13 affiliate sites of AMazon or not, using a geotargeting plugin, you still earn commission through your affiliate links to any amazon locale.
Buying a product from their locale makes visitors more comfortable and aware of what they are buying. Sounds great right?
Now, geotargeting is seen as a professional aspect that a professional site should have. And, AAWP offers it for you. So, you get the most satisfied customers.
Instead of using separate plugins or tools for geotargeting and affiliate links, AAWP will make it easier within one.
The countries that support AAWP are,
Amazon Australia
Amazon Brazil
Amazon Canada
Amazon China
Amazon France
Amazon Germany
Amazon India
Amazon Italy

Amazon Japan
Amazon Mexico
Amazon Netherlands
Amazon Spain
Amazon Turkey
Amazon UK
Amazon United Arab Emirates
Amazon USA
How to use an Amazon Geotargeting
5. Google Accelerated Mobile Pages
In the US, the Amazon mobile application is the most used shopping app. More than 200 million customers are using it now. Think about the numbers in the international market.
Not only for affiliates but for all website marketers who want to grow audiences should make sure their website is responsive to all devices.
If you are using WordPress you don't have to worry about responsive posts and pages but what about the affiliate plugin that you rely on to add affiliate links?
AAWP has the right compliance with Google Accelerated Mobile Pages. So, the affiliate links load faster and clear on all smart devices. It eventually reduces the length of CSS and JS which is often responsible for low page speed.
AMP features of AAWP support all of its functionalities like widgets and product information boxes.
How to use Accelerated Mobile Pages?
Install the AMP plugin that is supported by AAWP.
If you installed the official AMP plugin, choose the template mode between Standard and Transitional. That's it. The rest will be handled by the AMP plugin.
To make use of the Bestseller lists feature, just enter the product category. The plugin automatically adds the Bestseller Lists of a particular category. The list has the most frequently sold and popular products in the category.
You can set the limit for the number of products to be displayed, in default, it is 10. The custom attributes can be added to filter the products like products that have offers or discounts.
The feature can be used on posts, pages, and sidebar widgets also.
An Amazon Bestseller Lists example
How to create an Amazon Bestseller List
Shortcode for Bestseller Lists
[amazon bestseller="laptops" items="3"]
A widget is a block that is fixed with content. You can use it to display product boxes, bestseller lists, new product releases, etc. In WordPress websites, widgets are commonly used for a sidebar.
Based on the current theme, you can use it in the header and footer too.
The appearance of AAWP widgets is configurable. You can change the title and look of the widget with available designs, templates, and styles.
Styles: Light, Dark, Special: WAYL
Templates: Standard, Small
If you wish, you can use your own templates also.
An Amazon Widgets examples
Bestseller lists (small):
How to create an Amazon Widget
The Data field does the same that text links and product boxes do. But it lets you add specific product details without the descriptions of the item. You can add them anywhere in boxes, tables, and widgets.
It could be just the product title, price, or direct CTA. Add this anywhere in the post, page, and sidebar.
An Amazon Data Fields example
How to create an Amazon Data Fields
Shortcode for Data Fields
[amazon fields="B07D4FQB8S" button_text="To the shop" value="button"]
The New Release list shows the recent product from a specific product group. So, you can promote the new releases that have recently been available on Amazon.
It sounds similar to Bestseller lists, yes it does, except for the fact that it only displays recent products. The default product list limit is 10 which you can edit as you want.
An Amazon New Releases Lists example
How to create an Amazon New Releases Lists
Shortcode for New Releases Lists
[amazon new="macbook sleeve" items="3"]
10. Multiple Amazon Partner Networks
Amazon supports multiple partner networks. It is an in-house affiliate program of Amazon and is known by the name of PartnerNet. There are 14 Amazon partner networks available. The AAWP plugin supports all of these.
Similar to Geotargeting, this feature lets you reach your visitors from different countries easily.
The list of partner networks that AAWP supports is the following:
Amazon Australia


https://affiliate-program.amazon.com.au/

Amazon Brazil
https://associados.amazon.com.br/
Amazon Canada
https://associates.amazon.ca/
Amazon China
https://associates.amazon.cn/
Amazon France
https://partenaires.amazon.fr/
Amazon Germany
https://partnernet.amazon.de/
Amazon India
https://affiliate-program.amazon.in/
Amazon Italy
https://programma-affiliazione.amazon.it/
Amazon Japan
https://affiliate.amazon.co.jp/
Amazon Mexico
https://afiliados.amazon.com.mx
Amazon Netherlands
https://partnernet.amazon.nl/
Amazon Spain
https://afiliados.amazon.es/
Amazon Turkey
https://gelirortakligi.amazon.com.tr/
Amazon UK
https://affiliate-program.amazon.co.uk/
United Arab Emirates
https://affiliate-program.amazon.ae/
Amazon USA
https://affiliate-program.amazon.com/
11. Sorting and Filtering
You can use this Sorting and Filtering feature to sort the products based on price, availability, titles, or any criteria.
In this way, you can change the standard way of displaying the products. If you are writing a blog about the Best Mobile Phones Under $200, then use this filter to display the phones under $200 from Amazon.
You can sort according to star ratings also.
Filtering examples and options
Let's see how to filter products by title and price.
Shortcode to display products with a certain term in their title
[amazon bestseller="laptop" filterby="title" filter="windows"]
Shortcode to display products without a keyword in the title
[amazon bestseller="laptop" filterby="title" filter="linux" filter_type="exclude"]
Shortcode to display products with a price lower than $100
[amazon bestseller="smartphone" filterby="price" filter="100" filter_compare="less"]
Sorting examples and options
Let's see how to sort products by title and price.
Shortcode to sort products in ascending order
[amazon bestseller="smartphone" orderby="title" order="asc"]
Shortcode to sort products in descending order
[amazon bestseller="smartphone" orderby="title" order="desc"]
Shortcode to sort products from high to low price
[amazon bestseller="smartphone" orderby="price" order="desc"]
12. Different Styles / Designs
AAWP offers pre-made designs and styles to improve the link of elements. Within a few clicks, you can turn the overall appearance and style of a page.
It applies to product boxes, product grids, and product lists.
How to change an Amazon Style
Use attributes like style, grid, template, and class to change the design. For style use between standard, light, and dark.
Not only the designs, but AAWP also offers premade templates. It ensures you get a better visual display of your affiliate products matching the flow of your website.
It applies to product boxes, grids, lists, tables, and widgets.
Also, you can create your style templates but you may need programming knowledge in HTML, CSS, PHP, and Notepad++ editor to edit the template.
14. The AAWP Browser Extension
The Browser extension helps you generate the AAWP shortcodes for its features to use on website modules. Having it on your side, amazon affiliate links directly through your browser as soon as the call action is done on the Amazon store.
You get all the available shortcodes for all the functions. So, you don't have to remember all of them
The extension is available for Google Chrome and Mozilla Firefox browsers.
How to use an Amazon Browser Extension
After installing the extension, do the below.
Other Useful Features of AAWP
1. No Theme Dependency
The plugin works in all themes as it is not theme-dependent. Using the available shortcodes and templates, plugin features can be used in any theme.
2. Secure (HTTPS/SSL)
AAWP offers a world-trusted security connection, HTML/SSL. It ensures safety and security.
3. Automated Data Updates
Every day Amazon adds new products and deals. Amazon API with AAWP gives automatic product and data updates about price, deals, and new products.
All your product collections and their details will be up to date.
4. Translations
The plugin offers translation in five prominent languages that are English, German, French, Italian, and Spanish.
5. Click Tracking
The plugin supports Google Analytics, Google Tag Manager, and Piwik to track your affiliate links. You will be aware of what is happening on your website.
6. Amazon Prime & Extra Commissions
Promote Amazon prime products and increase commission from the purchase by prime members.
7. Well Structured Admin Area
You can customize your administration space with the most important settings. It is easy to adjust the output for each feature the plugin offers.
8. Developer Friendly
The plugin offers some developer-friendly options like PHP templating and WordPress hooks.
9. Prepared Templates
You have options to choose from well-designed templates for horizontal and vertical boxes, tables, and lists.
10. Caching
AAWP maintains a local cache to minimize API requests and improve page speed.
11. Responsive and Mobile Friendly
AAWP is developed for Desktop PCs and Mobile devices like smartphones, tablets, and iPads.
12. Tracking ID
AAWP automatically adds a unique affiliate id which you enter to all the existing and new affiliate links.
AAWP Review - What are the pricing plans?
Based on the number of sites you want to license with AAWP, there are four different plans.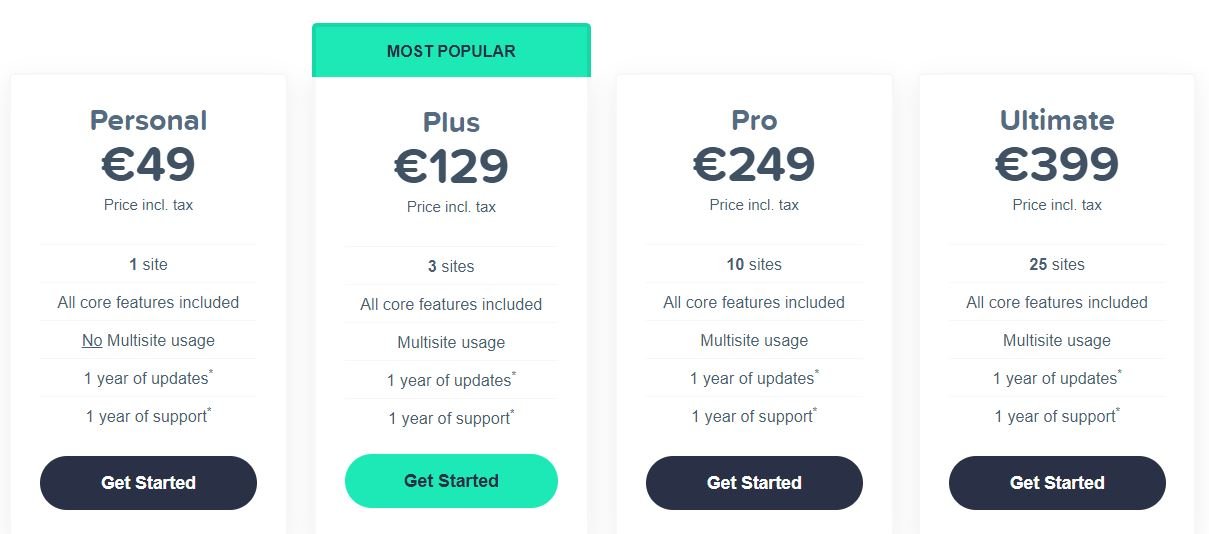 Personal

– €39/year, 1 site

Plus

– €99/year, 3 sites

Pro

– €199/year, 10 sites

Ultimate

– €299/year, 25 sites
Extra money is only for extra sites, except that functionalities, features, and options are the same for all the plans. You can renew the license with a 50% discount every year. Upgradation is available any time of the year as your business wants it.
AAWP Review - How to install the plugin?
There are a few technical requirements for this plugin. Though most websites meet these, we thought you should know about them.
PHP

5.3 or newer

MySQL

5.0.3 or newer

WordPress

3.4 or newer

Active PHP REST, SOAP & curl

extensions
Apart from this, to use AAWP you need the Amazon API.
How to get Amazon Application Programming Interface (API)
Signup with the Amazon associate program.

Get verification for an account.

Make a minimum of 3 sales.
Boom! You are ready to start affiliate marketing with AAWP.
Remember that, API usually starts its functions after 48 hours of confirmation. It is also important to test API keys before you buy a plugin.
Now, come back to the Installation of AAWP.
There are two ways in which you can install the AAWP plugin.
Way 1: Install By WordPress Uploader
The steps to use this method are the following:
Log in to your website.

Go to Dashboard.

Select

Plugins

.

Click "

Add New

".

Click the Upload link.

Upload the downloaded

aawp.zip

file.

Activate the plugin.
Way 2: Install Using FTP (File Transfer Protocol)
The steps to use this method are the following:
Log in to your website.

Go to Dashboard.

Select

Plugins

.

Click "

Add New

".

Click the Upload link.

Upload downloaded aawp zip file.

Extract the zip file on the local computer.

Connect your computer and server.

Go to >

/wp-content/plugins

Upload the AAWP folder directly to the server.

Log in to the website and move to the dashboard.

Go to Plugins.

Click the link and Activate Plugin.
AAWP Review - How to set up the plugin?
AAWP is surely a brilliant plugin to maximize the conversion but maybe not with their default settings.
Setting up the plugin is simple, just follow us.
Step 3: Go to the General tab
Step 5: Customize Functions
Frequently Asked Questions (FAQs)
1. Can I get a free trial in AAWP?
No, you can't. AAWP does not offer Free trials. But the 30-days money-back guarantee can give you the option to test the plugin and make your decision.
2. Can I use it for WordPress.com?
Yes, you can. Getting a business plan, AAWP, and any third-party plugins can be installed on your website. It works fine for WordPress.com and self-hosted WordPress sites under a business plan.
3. Can I use it on multiple sites?
Yes, you can. If you are licensed for the Plus plan or to a higher license, you can install and use AAWP on multiple sites.
4. Can I use debit or credit cards for purchases?
Yes, you can. AAWP offers payments through PayPal, Debit cards, and Credit cards also. All the payment details are securely encrypted and confidential. Just to assure you, the AAWP company doesn't save your card details on their server.
5. Can I upgrade my plan?
Yes, you can. You can upgrade anytime. It is very simple.
Go to your account, change your license, do payments, and see a reflection in your dashboard.
After seeing what the plugin is, how it works, and what it offers, now let's see who can get benefits from it.
If you are a New niche site owner with a $1000 earning in a month, AAWP is a good choice for you to boost conversions on AMazon and increase revenue.
If you are an Experienced niche site owner who earns above $1000 a month from an Amazon affiliate can also consider AAWP as a budget tool. It is more friendly with Amazon and saves you a few bucks.
If you are running a Content blog and write hundreds of articles a year, it would be easier if you have an automatic link adder like AAWP to insert affiliate links to your posts.
As the plugin offers many shortcodes, AAWP is a fast and easy way for writers to add Amazon links.
No one denies the Amazon Affiliate Program is currently the best way to monetize a blog. If you know how to use it right, you make more money than you think.
One of those places where you can get the feeling that you are doing it all right is when you use the right Amazon Affiliate Plugin, like AAWP.
AAWP is a premium plugin for WordPress that offers many functions, features, and customization options. You can focus on your audience which takes you a long way to success.
Be it for a beginner or an expert and a blog or e-commerce store, AAWP has everything you need.
Did we miss anything in this AAWP Review? Let us know in the comment section.