Upniche Custom Outreach Service
Blogger Outreach is a content marketing strategy through which we provide value, and you(i.e the customers) receive premium-quality outreach links.
Custom Link Outreach Service is one of the products that are presented for those who know the significance of relevance in link building. Custom outreach process gets you the best quality guest post links you can pay for. It differs from normal guest posts as these are freshly contacted sites specifically for you.
Why Should you choose us for Custom Outreach?
» Have you come across providers who overcharge?
» I guess you might have, but we don't overcharge for the links we acquire.
» We want you to retain you as a customer for a long period of time, so we don't overcharge, instead we over-deliver.
How We Differ From Others
» We don't charge based on DA & Traffic
» There are several outreach services. Are you ready to know the difference between them and our service? Read on to find out,
1. Our reasonable Flat Broker Fee comparison with competitors
We at upniche don't charge you based on the DA/PA or the traffic of the website. Services are selling a DA50 link for over $500-1000+. But we don't charge you such exorbitant amounts. Instead, we charge a flat $65 per link secured for you.
Sometimes, we obtain links from the blogs, who deliver the link without any publisher's fee, but they rarely happen. In that case we only charge you the broker fee.
Our packages save your money. A lot of money when compared to others.
Take a look at our recent campaign delivery:
Nowadays, if you purchase these links by Domain Ranking (DR) and so the cost will be through the high.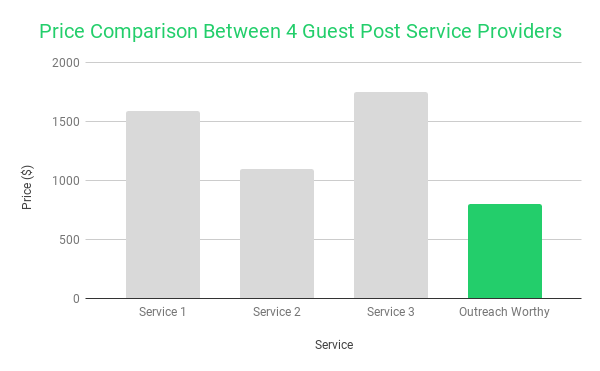 2. You can show off guest posts
Using our outreach service, you can get links that you can be proud of. They'll have good metrics and at the same time won't have a lot of guest posts as each outreach campaign is tailored for the particular customers.
 We weed out pbns & made for guest post sites.
3. Quality articles that can you show off
Our custom outreach service includes quality articles;By default, every article we write for custom outreach service is over 1000-1500 words.
They are grammatically right, plagiarism free and worth reading.
Unlike normal guest post service, you can select the sites your link will be on. You must approve the sites before we post the articles to them.
We will update you the job statistics every Monday.
….Or Take a look at every step & be with us throughout
If you have time to be involved in the entire campaign, you can do so. You can work with us campaign manager and keep track of all the progress. We'll share a google sheet with instant updates so that you can track all the work done.
5. Holds a hands-on outreach group
Upniche delivers you the best outreached links. We have team who constantly works towards perfecting it's job. With years of experience, we now can deliver high volume too.
6. We take responsibility of our work
We don't treat our clients like a door walker; we handle them like a master!
We identify your needs before you order and then do exactly as per your requirements.
7. with you, we will grow
We would like to grow along with you.
And for this reason, our prime aim is to satisfy you.
Here's Who Can Benefit From Us
We only work with a specific group of customers. This helps us to deliver a highly effective service.
If you are looking to rank your amazon, cpa or adsense niche sites, we can help you rank it.
We can offer white-label solutions if you are an agency with high volume requirement.
Small business owners who would like to get exposure to their products/services.
You are in the right place to gain quality links...
Pick our package given below. We have multiple link packages.
Select from several sites as per your requirement.
Pay the fee for your chosen site publisher.
Enjoy our 25% Offers for Black Friday...
Yes, we will give some discount only on Black Friday. Join our mailing to get a notification.
This is a service, so we can't offer refund, once the links have been placed.