Are you looking for the best yet easy-to-use WooCommerce Affiliate Plugin?
Also, having an idea of setting up your own affiliate program and increasing sales, but doesn't know which plugin to buy? No worries, we're here to clear your doubts and guide what you expect.
To be clear, WooCommerce and WordPress are, together, a powerful and great combination for online commerce.
In such a case, the right WooCommerce Amazon Affiliate Plugin is a must to gain commissions when you work as an affiliate with WooCommerce and WordPress. 
What is affiliate marketing?
Just by referring a visitor to a product or service affiliate receives a commission and the affiliate's website traffic gradually increases as a result of the affiliate's promotion.
To earn from Amazon's affiliate program, the right tools are mandatory.
If you don't have any idea about choosing the plugins, this article is for you guys!
We will cover the advantages of using a plugin and a list of Best WooCommerce Amazon Affiliate plugins that you can try out. Keep reading to find the best!
Why does your WooCommerce store need an affiliate program?
"If you have an idea of setting up an online store, WooCommerce will stand out as the best option", with those plugins you can create function-packed online stores within a minute.
There are countless plugins available even a few are proven as the best,
For example, payment gateway plugins like PayPal, plugins for coupons, store management, CRM facility, email customization, affiliate marketing and many more.
Out of that, a WooCommerce affiliate plugin helps to set up an affiliate program quickly.
Let's dive into the benefits of the affiliate program,
→Generates more traffic to your store
→The fastest and easiest way to improve the traffic and lead to sales
→Costs less to advertise and promote your store.
→As a result, a lot of new customers will be your affiliates also they would join you to promote the site.
Why a WooCommerce Amazon Affiliate plugin?
What features do you get while using a WooCommerce Amazon Affiliate plugin? and Why a WooCommerce Affiliate Plugin?
To manage the quantity of affiliate links and the money it produces becomes a hazardous task while adding too many connections to your site. So, to run smoothly it may be very useful to go with WooCommerce Amazon Affiliate plugins as they will be supporting your website with,
An easily customizable product display options

Adding links to pages via WP admin

Simple affiliate links that minimize the number of long codes

A reporting tool that keeps account of no.of.clicks and the amount of money each link has made.
10 Best WooCommerce Amazon Affiliate Plugins For Your Online Store
1.ReferralCandy
Referral Candy is one of my favorites as it helps to set up an affiliate program from your WooCommerce store products easily.
ReferralCandy is not a self-hosted WooCommerce solution. Instead, it's a SAAS affiliate tracking software that can be integrated with the WooCommerce store.
It stands as the top WooCommerce affiliate plugin as it helps you grow your business through a referral model, which means your customers will become your affiliate partners by referring your products to more people.
Why Referral Candy?
Out of all plugins mentioned here, this is one of the most user-friendly plugins. For beginners, it is the best option, so no worries if you don't have much experience with WordPress and WooCommerce.
Actually, it is built for Shopify so it works better for eCommerce referrals.
It can also be used as a WordPress referral system plugin if you haven't installed WooCommerce.
Key features:
One-click integrations with other platforms

Live chat support

Intuitive and easy to use plugin

Automated affiliate registration and tracking

Easy-to-use customization, developer-friendly.
Pricing: 30-days free trial available, Premium plan starts from $49/mo billed monthly. Enterprise – $3999/mo billed annually.
2. AAPro
AAPro is another amazing WooCommerce Amazon Affiliate plugin as it allows users to build an online shop that links directly to Amazon.
It differs from other affiliate link plugins due to its design, it can also be customized as per the user's wish.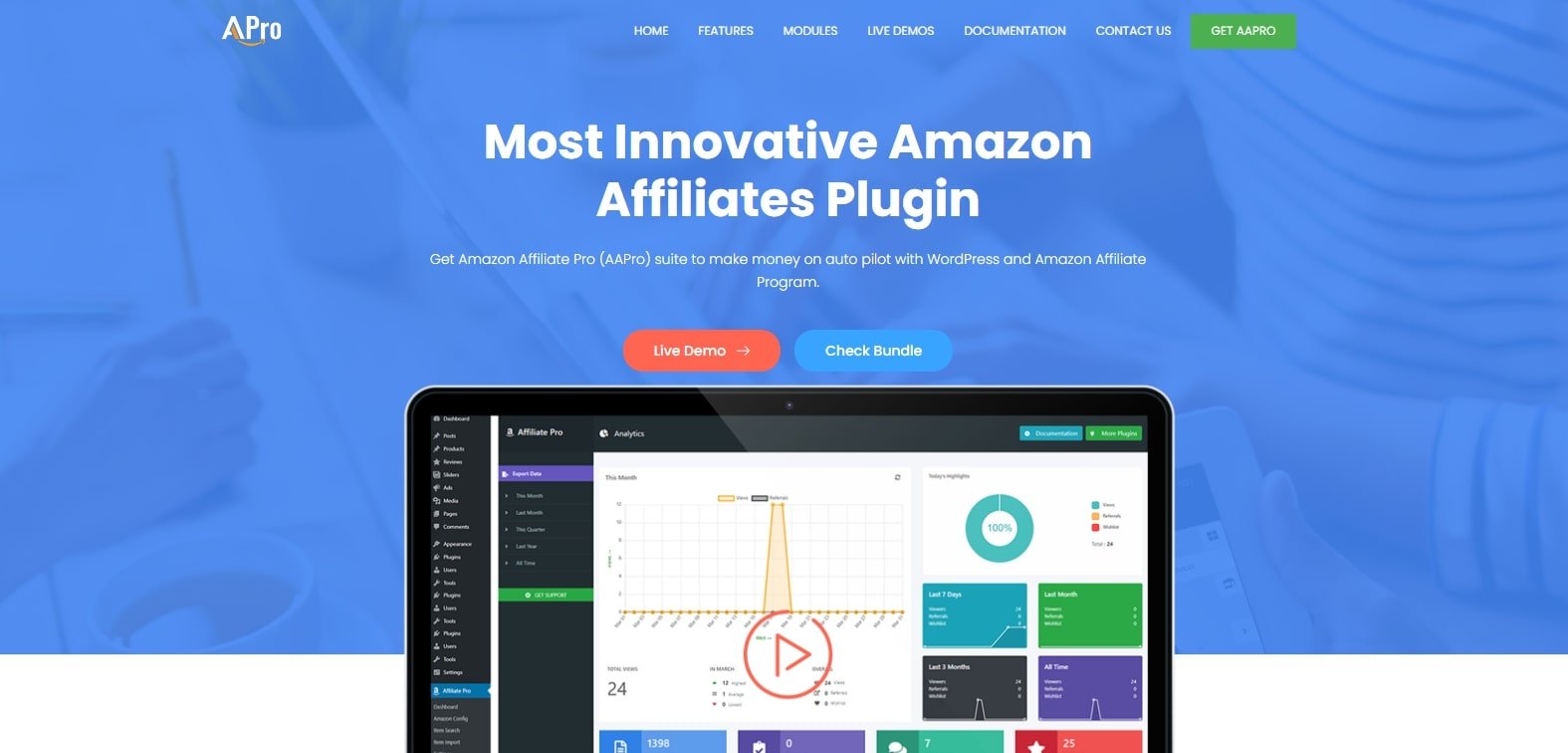 With an AAPro plugin purchase of $29, you will get access to a premium theme that was built to work with the plugin.
Using this tool you may get a wide variety of layouts, sliders, and icons to choose from in this theme that is SEO-optimized, responsive, and customizable.
It's very simple and easy to use AAPro since you can do everything from the WooCommerce dashboard: install the plugin, search and import Amazon items, and create your product listings.
Additionally, AAPro can import and upload Amazon goods directly to your site without any assistance from you.
Pricing: Charges $29 as a one-time fee.
3. SearchAzon
This WooCommerce Amazon Affiliates Auto Search Plugin is a premium plugin developed by AA-Team.
The predominant feature of this plugin is, it will display Amazon Search Results on your site and redirects the customer to Amazon.
You can change fonts, colors, headers, and backgrounds easily.
SearchAzon is quite adjustable. The user-friendly dashboard allows to manage the entire system easier along with a search engine for finding specific items.
Furthermore, "SearchAzon is quite easy to use even for beginners".
Usually, if the user searches for something on the search bar, they can find what they're looking for, but sometimes they may not see any products at all for their query.
But this issue can be resolved by SearchAzon plugin, the user's search will also be used to fetch products from Amazon.
So you will automatically get commissions when a product from your own store doesn't catch the shopper's attention.
Notable Features are as follows,
Works with any WooCommerce / WordPress Theme
It allows you to set up where to display SearchAzon, On WooCommerce Search, WordPress Search or both
Has options to set up how many products to display per column/per page
It supports Geo-Targeting Option
Price: Charges $17 yearly with 6 months of support from their technical team.
4. Amazon Easy Azon Plugin
This plugin can be used to add Amazon product affiliates links from within your WordPress posts.
"Instead of logging into the Amazon Associates websites, just search for relevant Amazon products, create affiliate links and copy and paste them into your content".
EasyAzon is a specific plugin to generate sales and drive traffic from your unique content by linking to relevant Amazon products with an affiliate link.
The EasyAzon button brings up an Amazon search form page within your WordPress dashboard to find relevant products. A few clicks later and the Amazon affiliate link or image is part of your WordPress post.
Prominent Features
Provides multiple styles of links
Built-in link localization option.
Provides the "Add-To-Cart" option (90-day cookie)
Create Amazon affiliate links without ever leaving your WP Dashboard
5. Amazon eStore Affiliates Plugin
This is one of the best WooCommerce Amazon Affiliates plugins as it helps to gain users access to their imported or unpublished products' progress on the Dashboard.
What makes it more popular? Due to Amazon CloudFront's content delivery network (CDN), videos, API, and other resources the result will be delivered quicker.
"If you're looking for the fastest way to speed up content then it's a great idea to integrate with Amazon Web Services".
For sure, your website visitors and users will like this Amazon CloudFront as it helps to speed up the importation of items and your website's navigation for their convenience.
Features offered by this plugin are as follows,
Possibility to Search by Categories, Subcategories, Keywords for selecting the products you want and include
Can have Amazon Products and Simple Products on the store at the same time
Select if you want to import prices only from Seller Amazon, or from other sellers as well
Can select images to import for each product
Price: Starts from $51.75 every year.
6.Affiliate for WooCommerce
Affiliate for WooCommerce is an affiliate plugin that is simple, pretty easy to implement, and built by experts at StoreApps.
Also, it seems to be the top choice amongst WooCommerce users, the lovable feature of this plugin is the creation of referral links.
It allows you to control your affiliate program which includes approving affiliate partner requests, releasing payouts, turning customers into affiliate partners, and much more.
You can also get the tracking and reporting features which help to monitor the performance.
This plugin has come up with an intuitive dashboard that provides all the required information in a very easy manner. It has a single-page UI so your time will not be wasted browsing between tabs to find the data.
Even if you're in trouble you'll get complete support from plugin developers which are a huge benefit.
Using Affiliate for WooCommerce plugin is a big plus for website owners as they can effectively keep an eye on the conversions made through the affiliate links and coupons, count visitors, and track sales.
If you're still in doubt or confused, Here are reasons why the Affiliate for WooCommerce plugin is ideal for your affiliate program.
Simple to use, no coding required.
Ability to set storewide affiliate commission rate
Affiliate leaderboard to track performance
Real-time sales reporting

User-friendly dashboard with the ability to navigate seamlessly.
Pricing : $129 billed annually
7. AffiliateWP
Affiliate WP is another interesting yet popular WooCommerce affiliate plugin that is packed with a lot of useful features which lead to improve sales and conversions.
For beginners, this is one of the best plugins, in the sense, it's easy to install and set up. Just install Affiliate WP on your WooCommerce store and your affiliate program will be up and running.
It has got free 15 add-ons and 14 paid add-ons which could be very useful. Additionally, it's easy to create multi-tier affiliate programs with this plugin.
Best WooCommerce Affiliate Features of AffiliateWP
Intuitive dashboard with advanced analytics and real-time reporting
Countless partners for the single site
One-click installation and integration for WooCommerce
Collaborate with affiliate coupons for seamless tracking
Hooks and templates to add custom features and functionality
Automatic affiliate creation – It means you can easily convert all of your customers into affiliates
Per-product per-affiliate rates – setting different commission rates for individual affiliates on different products with the free Affiliate Product Rates add-on
Product-specific commission rates – Commission will differ for individual products

Affiliate coupon tracking – Just connect the coupon codes to specific affiliate accounts

Disable specific products – It allows you to disable specific products from generating referrals.
Pricing
→ Personal – $149/year
→ Plus – $199/year
→ Professional – $299/year
→ Ultimate – $499/year
8. Tapfiliate
Tapfiliate is another top-performing SaaS affiliate plugin that can transform your WooCommerce store into a great selling mine, to start this just install the plugin, no need to possess any additional skills.
"It is easy to create, manage, and scale your affiliate program and thus serves as a major source to drive more traffic and sales".
Within a second, Tapfiliate integrates with your online store, the next step is to register new affiliate partners and provide them with their unique affiliate URLs.
Tapfiliate is designed with an advanced dashboard that presents all the information in a graphical manner to make it easy to analyze.
The process of creating personal coupon codes for your affiliate partners are very easy now with this plugin.
Prominent Features
Custom signup field
One-click integration with WooCommerce
Set commission rates based on product, category, etc.
Automated report generation, refunds, and canceled purchases
Plug and play with other eCommerce marketing tools
Shortcode for easy implementation
Trial sign-ups for customers turning to partners
Pricing: 14-days free trial available, paid plans start from $89
Pro – $149/mo
9.WooCommerce Amazon Affiliates
This is a WooCommerce affiliate plugin developed by the AA Team, why it's a popular plugin? The reason is it has more than 20k downloads and a 4-star rating making it an effective solution for your affiliate marketing needs.
By installing Woocommerce Amazon Affiliates you can advertise Amazon products on your Woocommerce website and earn advertising fees from worthy Purchases.
With the WooCommerce Amazon Affiliates plugin, you can set up an affiliate site within a couple of minutes and start importing products from Amazon.
The site will look and function like an e-commerce website, but at checkout, customers will be led to Amazon.
The Auto-import feature is highly impressive, just enter a search term you'll get millions of parameters to narrow down the results.
If there are any new products on Amazon, and that is too, relatable to your site then they will be automatically imported to your site.
With this feature, your site will grow on auto-pilot publishing new content daily without any input. I love this feature on WooCommerce and Amazon integration.
Amazon Affiliates also comes with an "Amazon Associate Report Module" that helps the website owners to keep track of conversions, clicks, shipped items, and revenue.
Notable features of this plugins are as follows,
Simple to implement and quick integration
Short URL for your product links, that will be added automatically to your account
You can choose any number of products from any Amazon website
 It imports products automatically by using the Auto Import module
Pricing: $49
10.YITH WooCommerce Affiliates
YITH WooCommerce Affiliates is one of the most popular plugins with multiple functionalities, why I love it most is the ability to run an effective affiliate program by automating various tasks and giving more control to store owners.
It's become simple and easy to set different commission rates for various affiliate partners, the rates will be fixed based on their performance.
To promote your products it's possible to design various discounts and assign coupons for your affiliate partners( it will lead to increase the sales). By purchasing via affiliate coupons the rewards will be added to the cart every time a purchase is done.
There are both free and paid versions. The paid version comes with all the features of the free version plus some more advanced options such as the ability to ban affiliate partners, advanced reporting, and setting time-lapse for visits.
Prominent features
Email notifications to administer affiliate partners
Pay commissions every day
Automated commissions and refunds.
User-friendly dashboard
Pricing: Free version on WordPress.org, paid version at $100
How to Choose The Best WooCommerce Affiliate Plugin?
We have discussed the benefits of affiliate programs to your store, now let's talk about "how you can choose a WooCommerce affiliate plugin to implement that program". There are some criteria that you must look into for an affiliate plugin, here are those,
Manage affiliate links – An efficient plugin must manage, save, and organize affiliate links, look into it.
Integrate payment gateways– Your affiliate plugin must be good enough to work with all the common payment options, i.e Stripe, PayPal, etc.
Easy to use– The affiliate plugin should be user-friendly and have easy to use dashboard so that your time will be saved.
Generate referral links – A WooCommerce affiliate plugin should be capable of generating affiliate links for your partners.
Track partner's performance – It's a mandatory task to track your best performance affiliate partner so that you can offer him or her a better payout.
Final Words
As per the research, more than 80% of the marketers are moving towards affiliate marketing, to hit a success they have to set up an affiliate program to grow their online business.
Anyone can start their own affiliate program, don't hesitate if you're new to this, to make your work a bit easier we've compiled a list of 10 best WooCommerce amazon affiliate plugins, just go through it and leave your comment if you've tried any.
A good affiliate plugin will lead your business to grow smoothly by managing affiliate links, payouts, commissions, and many more.
Hope you may have got an idea to choose your favorites!