Still, confused about landing on the Best Amazon Affiliate Plugins for WordPress? Well, you don't have to. Just pick one from the list below and start earning. Don't worry, we will explain WHY!
WordPress and Amazon are the top choices that anyone thinks of when starting an online affiliate business.
I Know. But, Why?
Amazon Associate Program needs a website or blog, verified social account, or a mobile application to accept you as their Affiliate. Just one!
It allows you to promote their products with text links and ads with other affiliate programs too. 
Whenever your blog convinced a visitor to buy a product through your unique link, you earn a commission as well as traffic to your website. Also, the REFERRAL FEE or commission rate is quite higher in Amazon compared to other affiliate programs.
That's why it is the most popular affiliate program now but it has other reasons too. 
Amazon is global, utmost trusted, and widely used e-commerce space. It has vendors and suppliers all around the world, they have hundreds of categories of products and millions of varieties.
Amazon's checkout is instant for all types of account holders. They gained high values for their quality and quantity. Amazon Associate program generates passive income and increases the revenue of your website. 
Above all, Amazon is the top choice for buyers, so it has to be for you too.
Got it! But Why WordPress?
Start with a FACT, as of 2021, in about 1.3 billion websites on the internet, over 455 million websites use WordPress. It explains WHY.
WordPress is 100% USER-FRIENDLY. It does not need coding skills to maintain a website as it offers as many premade FREE and PAID themes to support your business and a lot of FREE PLUGINS to ease your job and bring you close to your goal for your blog or website.
Moreover, it has numerous options and settings for Affiliate Programs. When it comes to Amazon Associate Program, more than 90% of users choose WordPress.
You just need to know the best amazon affiliate plugins for WordPress to get started earning and we are here for that.
Best Amazon Affiliate Plugins for WordPress
1. AAWP (Amazon Affiliate WordPress Plugin)
AAWP short for Amazon Affiliate WordPress Plugin is our #1 choice for the best amazon affiliate plugins for WordPress.
AAWP is the most popular and great premium plugin for an amazon affiliate program. The plugin gives you many choices to promote the amazon products that are most likely to lead to buying.
You get different options to add affiliate links to the page including a hypertext link, using multiple data fields or widgets, and various product information like price, discounts, comparison tables, recent deals, etc. 
It allows you to add automatically updated data like best sellers and new releases so your website stays current.
For comparison or product fields like title, description, price, and clickthrough action buttons, you can use different color themes and templates to attract your viewers.
With AAWP, inserting and tracking the affiliate links are easy. You can customize all the elements offered by AAWP for all three commonly used devices (Desktop, Tablet, and Mobile).
The plugin supports shortcodes so you can paste the affiliate links in any modules and locations of your WordPress website.
Some of the most loved features of AAWP are,
Product comparison tables – buyers can compare the best products and choose the right one for them.
Geotargeting for links – based on their locations it automatically sends the visitors to the right Amazon locale. AAWP is one of the best amazon affiliate globalizer plugins, no doubt about it.
Caching – caches product information locally to reduce excessive API requests and increase page speed.
Google Accelerated Mobile Pages (AMP) – product information boxes work well in AMP sections, so you don't lose mobile visitors.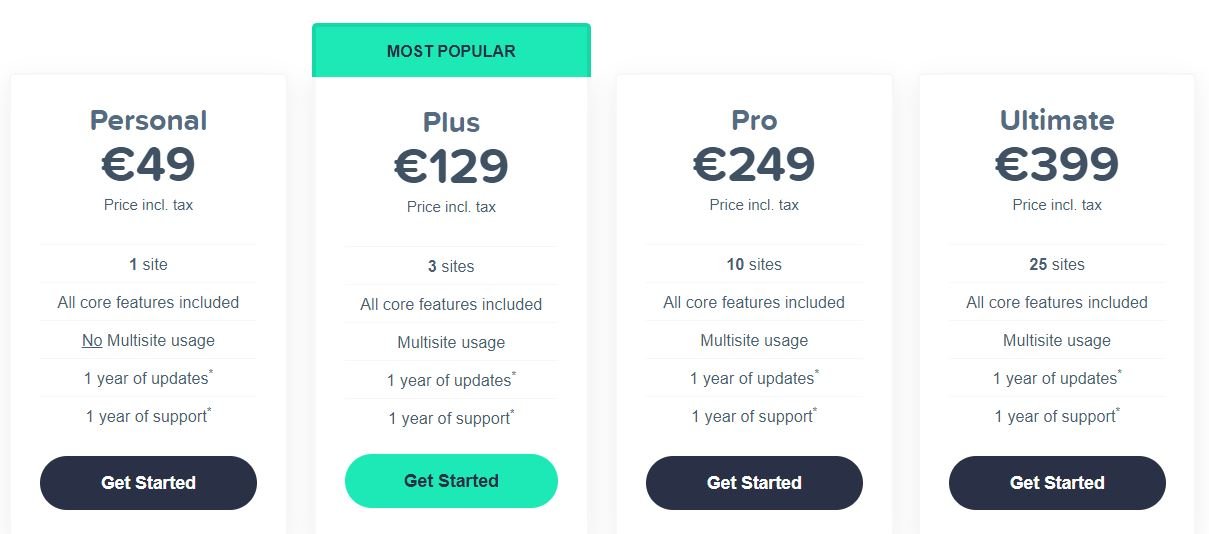 Pricing
Personal

– €49/year (~$60/year, 1 site)

Plus

– €129/year (~$155/year, 3 sites)

Pro

– €249/year (~$300/year, 10 sites)

Ultimate

– €399 /year (~$480/year, 25 sites)
WP Table Builder is a Free WordPress plugin that you can install from WordPress.org. It is a drag and drop table plugin with that you can create product tables and comparison tables easily.
You need not know HTML or CSS to create and style a table hereafter. Just drag and drop elements, add data and save.
As of now, WP Table Builder is the best amazon affiliate plugin for WordPress to insert tables. It has five elements Text, Image, Button, List, and Star Rating.
Rather than text blocks, add necessary information about products using these elements to avoid too many scrolls and long page lengths. It increases the conversion rate for your amazon affiliate website.
The tables created using the plugin are also responsive to mobile devices. Simply, add or remove rows and columns and manage cells like merging and splitting.
WP Table Builder also supports shortcodes so you can have stunning tables wherever you need using a shortcode.
Pricing
Basic

– Free

Starter

– $39/year, 1 site

Pro

– $79/year, 1000 sites

Lifetime

– $249, unlimited sites
3. WZone (WooCommerce Amazon Affiliates)
WZone, also known as WooZone or WooCommerce Amazon Affiliates is one of the best amazon affiliate plugins for WordPress sites for business, local stores, and e-commerce stores. 
It is one of the best affiliate plugins for e-commerce websites with many affiliate programs. The plugin offers numerous features and tools to set up and maintain affiliate programs and an e-commerce store on a single website.
You can easily connect your woo-commerce store with amazon using this plugin.
WZone also provides dropshipping features to manage affiliate links and use the program vividly. 
The plugin has an amazing feature that it removes the unavailable products on amazon from your website automatically. The automatic synchronization of amazon products ensures your website has up-to-date product lists.
Another feature from WZone is called content spinner which has product details that can be edited manually and automatically.
These drop shipping arrangements can be utilized in two ways to earn money from your website.
#1 – You can create a shadow dropshipping where you can add amazon products as woo-commerce products using the automatic synchronization feature.
In this case, once a buyer added a product to the cart on your website, they will be redirected to Amazon for checkout with your unique affiliate link. So, you earn a commission.
#2 – You can list amazon products on your woo-commerce WordPress website and bring them to sale. Once the buyer placed an order, you can purchase that product on Amazon and complete the order.
It involves manual effort but it fully relies on you rather than on the Amazon Associates Commission.
Both approaches with WZone make it easy for you to earn from Amazon as Woocommerce.
Pricing
Lite

– Free

Regular

– $49, 1 site

Extended

– $405, 1 site
AzonPress is similar to AAWP. Like other affiliate plugins for WordPress, it also offers different layouts to create and customize that suit your website's look.
The plugin offers features like comparison tables, products showcase, geo-targeting, and CTA.
The comparison tables can be added to pages and posts. It is responsive to all devices. You can add buttons too.
It helps you create a customized products showcase with the product title, description, image, star rating, and user reviews with affiliate links. AzonPress is fully compliant with Amazon policies for using data from Amazon API.
It takes your visitors to their respective Amazon locale with a geotargeting feature which effectively increases the conversion rate.
Call to action or buttons can be added to tables, comparison tables, and wherever needed.
AzonPress is also compatible to use with shortcodes. It makes it easier for you to use the plugin without affecting the website's flow. Just generate a code, copy it, and add it to the modules in preferred locations.
Now, you have control over your website's look and conversion.
The plugin is easy for anyone to install and use. It has an intuitive user interface so you experience fast and quick performance and usage with this so you save a lot of time.
If you are looking for an easy-to-use Amazon affiliate plugin for your WordPress website, AzonPress is right for you.
Pricing
Single

– $31/year, $119/lifetime, 1 domain

Agency

– $63/year, $199/lifetime, 20 domains

Unlimited

– $127/year, $279/lifetime, unlimited domains
AmaLinks PRO is another best amazon affiliate plugin for WordPress that helps you use the affiliate program to the fullest. It has many options to present your amazon affiliate products to your visitors using widgets and customized tools. It keeps your website SEO-friendly which a search engine loves to see often.
You get frequent updates for the software to stay in the market update. The plugin gives options including insert hypertext links, image links, CTA, and product showcases.
The plugin sync with amazon products so you can import product details like title, features, images, and others from amazon pages.
The plugin comes with a Table builder add-on with which you can create product tables, comparison tables, sale tables, and so on.
You get options of premade product designs to create stunning product showcases in posts and pages.
The in-built Google Analytics Event Tracking helps you track your affiliate click in Google Analytics. So, you know the location, often used queries, most viewed pages, source medium, and everything about each click and visit to your website.
To add, AmaLinksPro has a good value in compliance with Amazon's policies and rules which keep you out of trouble and let the conversion increase.
Like other affiliate plugins for WordPress, AmaLinks Pro also allows you to use shortcodes wherever needed.
Pricing
Blogger

– $67/year, 1 site

Basic

– $127/year, 3 sites

Premium

– $197/year, 25 sites

Platinum

– $597/year, unlimited sites
AAPro is also known as Amazon Affiliate Pro similar to WooZone, this plugin allows you to import amazon products to your website and let you use it as a woo-commerce store.
Your visitors browse through the products and when they added a product to the cart, your website with a unique affiliate link will take them to Amazon for checkout. You get the commission.
AAPro also provides great features to assist in improving your visitor's shopping experience at your website.
Remote add to cart – as like any other e-commerce site, your site too has the option to add products to amazon shopping carts not leaving your site.
Wishlist – same as the one on amazon and other sites, visitors can create a wishlist of products that they will buy later.
Price Alert – visitors get alerts for a product price drop on Amazon and your site.
In addition to the above, you will also get an in-built analytics tracking dashboard where you can analyze the products with clicks, impressions, and search types and know about your audience and their requirements for your website.
AAPro is available with its WordPress theme, but you can change the theme as your willing. The theme is SEO-optimized, with many layouts, icons, and sliders to choose from.
Pricing
$29 one time fee, 1 site
Like other WooCommerce plugins for WordPress websites, Amazin Link Engine also takes your visitors to respective Amazon's websites for location. 
If you want to optimize your affiliate location for more conversion rate, you should try this Amazon Link Engine plugin.
It is globalized so it helps visitors to be redirected to the right product that is available to their nearest amazon locale and sales increase so does your commission fee. 
Unlike other plugins that have geolocation technology, Amazon Link Engine comes with an advanced localization engine called Geniuslink to avert typical pitfalls and errors like redirecting to out-of-stock product pages or blank pages.
It means that when an international visitor loads your website, Amazon Link Engine decode their country or region and changes the affiliate link you added to that specific page to direct them to the most nearby Amazon product page.
Giving the best buying experience with the most optimized purchase and products, your visitors will come back to you often thus conversion rate and international website traffic goes high.
All these excellent features for FREE. So, it should be added to your list of amazon affiliate plugins for WordPress.
Pricing
Basic

– Free, 1000 clicks

Starting

– $5/month, 2000 clicks

Business

– $249/month + $10, per 10,000 clicks
Are you using many affiliate programs on one website? Then, Easy Affiliate Links should be one of the best amazon affiliate plugins for WordPress you would have chosen. It allows all of your affiliate links to be used in one place.
One of the best user-friendly WordPress plugins for users who manage multiple affiliates in one blog. It helps to categorize affiliate links to give a uniform and clean look.
The plugin converts the link lists to compatible with all devices whether you use an old classic editor or a new Gutenberg editor.
Easy Affiliate Links lets you track monthly clicks to your website or even for a lifetime to avoid malware and help you run a website without any problems.
The plugin offers excellent import and export options. You can import or export all affiliate links in the XML and CSV files to or from your website.
It allows for link cloaking to not let your users be suspicious of the links.
Overall, you can edit, categorize, cloak, import, and export the links or URLs. It speeds up indexing and eases searching. By measuring clicks for a month or lifetime, you can build a strategy to follow further to increase your clicks.
Easy Affiliate Links is available for free but the premium plan gives an in-built report dashboard and stats related to page clicks, link targets, and automatic inspections for broken links on the page.
Pricing
Basic

– Free

Premium

– $29, 1 site

Multiple

– $119, 20 sites
If you are looking for the best budgets amazon affiliate plugin for WordPress, Amazon Auto Links might be the one you would end up with. Except for the affordable price, Amazon Auto Links is no less than other best amazon affiliate plugins for WordPress.
By using the feature of this plugin, you will never believe that you get them for free. The plugin helps you automatically add your amazon affiliate links in one place with the respective list of products on your website.
You can filter the products from the list using the title, description, and ID number. Using the recent version of the Amazon Product Advertising API, removes the unavailable and sold-out products from the list and reflects the changes that are done on amazon to your website too.
You can manually insert desired products or let the plugin display products lists and categories regularly.
In four ways, you can display the products on your website using this plugin.
Category – product feed in that category that updates new lists whenever it changes on amazon
Product search – using a search query on amazon
Item look-up – specific products
URL – list product items from other web sources
Using the shortcodes, you can customize the display of your products on the website by altering the image size or length of the product title and description.
Other useful features included with the plugin are,
Geotargeting – target your amazon affiliate links based on the IP addresses of visitors to give the most personalized product suggestions that are near them.
Automatic link convert – the text links added in the content are converted to amazon products. If you just got amazon associate approval but has many existing URL, it helps there.
URL cloaking – it provides URL cloaking to prevent suspicious links.
Pricing
Free
EasyAzon provides an easy way to add an amazon affiliate link directly from the WordPress editor. 
It is compatible with all amazon locales like the USA, UK, Germany, Canada, Italy, France, Spain, Japan, China, India, etc, and allows you to convert text affiliate links when needed. 
This robust plugin comes in Free and Pro versions.
The Free version is just with text links. To get all of its features, you should buy its premium version. The features include the following:
Image affiliate links – click through image links
Product information boxes – you can add title, thumbnail product image, price, and button.
CTA – lets you add a button to posts and pages
The other useful features that come with the premium version are
Quick view to product details on hover.

Geotargeting link localization based on the location of visitors.

Allows visitors to add products to carts.

Enables no-follow and new window attributes for affiliate links.

Provides automated link cloaking.
Pricing
Basic

– Free

Pro

– $47, unlimited personal websites
Pretty Links is a tracking platform where you can track and use affiliate links simply and cleanly. It converts the long links into a pretty links, so you can protect the links using link cloaking.
You can use the website's URL or domain for link cloaking or generate random short URLs, it is up to you. 
You make your website more professional by having clean and trustworthy links with custom URL slugs. It eventually drives more traffic and increases the conversion rate to the website. 
It lets you assign tags to manage links as groups and track the links that are converted or not. You can filter link tracking with several unique clicks or the number of total clicks for each link.
In the premium version, Pretty Links offers features including redirect types, automatic affiliate link building, link categorization, and Goggle analytics track management.
Pricing
Basic

– Free

Beginner

– $79/year

Marketer

– $99/year

Super Affiliate

– $149/year
Which is the Best Amazon Affiliate Plugin for WordPress?
Amazon associate or any affiliate is not just ended as you joined and added links to the blog. It is huge. You have to make sure your strategy to increase conversion rate and commission fee can be supported by your website too.
Having user-friendly, responsive, and all devices compatible websites with good page speed, look, and optimized product results are important for a successful affiliate journey.
The display and appearance of affiliate links can affect the sale and promotion of products. But it is not the go process either. You should have pre-plans, methods, and alternative ideas to market your affiliate products. 
WordPress plugins are one of those supports that takedown many possible risks and hassles by making the affiliate links clear, easy to see, eye-catching, etc. So, it is important to choose the list of Best Amazon Affiliate Plugins for WordPress.
All the above-listed plugins for WordPress are different in their way. These Free and Premium plugins not only increase traffic but also turn every visit into a sale.
With the right plan and right tool, you can execute what you planned. 
As we are done, What do you think is the best Amazon Affiliate Plugin for WordPress from the above list?
Oh, For us? It must be AAWP. Let us know your favorite in the comment section below.